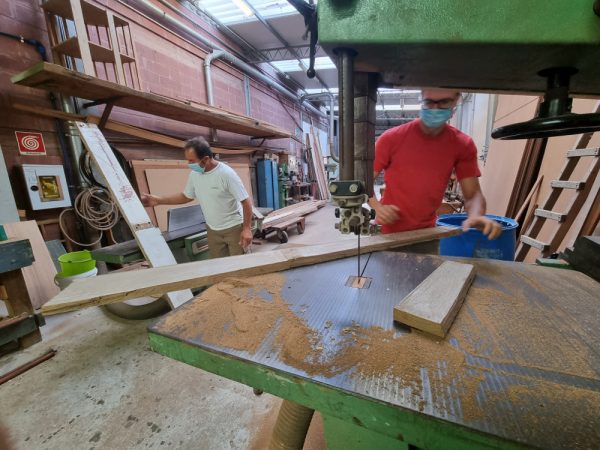 It all starts with three main ingredients:
The first is the W-eye frame, made from a lamination technique in which seven strips of wood are plated with two strips of aluminium. The second is the teak wood, taken from a boat dating from 1938 and restored by the Del Carlo boatyard in Viareggio. The third is the fifth edition of the Hannibal Classic regatta in Monfalcone.
This trio gave rise to the idea for this limited edition, made to celebrate a particular event with a core value: time, in other words the life this timber has already lived and will continue to experience in these frames.
At Doriano Mattellone's eyewear studio, founded in Pavia di Udine in 2010, the frames are created by converting teak boards into fine strips of wood, which are then pressed in specially-made moulds. Once the structure of the frame is complete, the surface is then cut and finished in a perfect loop: in goes the raw material, out comes the finished product.

Mari 1938 – design by Matteo Ragni
"Created to celebrate the fifth Hannibal Classic, this model needed no frills or ostentation. It obviously had to be classic, elegant, balanced and poised, just like the Grandes Dames of the sea. The only standout is the gentle curve on the temples, reminiscent of the elongated keel of a vintage boat. The reference to vintage has been well interpreted by Doriano Mattellone, a sophisticated creator without whom the exciting W-eye concept would never have been born.
The teak was recovered from the restoration of a magnificent boat dating from 1938.
The lucky owners of these glasses will be the custodians of the vessel's soul, true to the sailing tradition I've learned since I first took my little boat out on the water".
Mari 1938 is a limited series of just 100 models, and is designed for a range of sunglasses fitted with ZEISS polarised lenses.
---